Formerly the Michigan Entomologist (Vols.1-4), The Great Lakes Entomologist publishes papers dealing with nearly any aspect of entomology. Appropriate subjects are those of interest to professional and amateur entomologists in the Great Lakes region, North Central states, and Canada, as well as papers directed to a larger audience. The journal is open access, and articles are published as they are finalized.
This is the new website for The Great Lakes Entomologist. New issues will be published here in the future.
Copyright © 2020 by Michigan Entomological Society. Published by Valparaiso University.
To view past issues, please visit our old website: http://michentsoc.org/gle-pdfs/index.html
.
Current Issue: Volume 52, Numbers 3 & 4 - Fall/Winter 2019 (2019)
Full Issue
Front Matter
Peer-Review Articles
Scientific Notes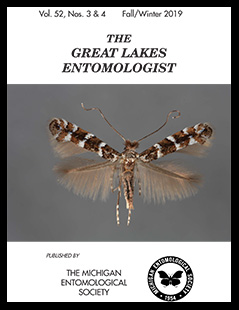 Editors
Lead Scientific Editor

Kristi Bugajski, PhD

Lead Production Editor

Alicia Bray, PhD
Associate Editors
Anthony Cognato, PhD
Julie Craves, PhD
David Houghton, PhD
William Ruesink, PhD
William Scharf, PhD
Daniel Swanson, MS