Journal of Mind and Medical Sciences (JMMS, J Mind Med Sci) pays special attention to papers related to mental and medical topics, focusing primarily on interdisciplinary and integrative perspectives. It is an online and open access journal, no charges being received for submission, review, and publication of articles. The journal adheres to the philosophy that high quality and original ideas and information should be freely shared within and amongst the scientific community, with the stipulation that the authors be acknowledged for their knowledge and contribution. J Mind Med Sci. is licensed under a CC BY-NC-ND 4.0 License.
The journal is conducted by international norms of academic publishing, being listed by International Committee of Medical Journal Editors (ICMJE), member of CrossRef, and indexed by several International Databases.
Authors are encouraged to supply the names of two potential referees, and/or of referees that they do not wish to review their paper. The decision regarding the selection process of the reviewers belongs to Editor(s). Authors of Invited Reviews should supply the name of the Guest Editor who invited them to write.
For a complete journal coverage see About This Journal/ Indexing and Aims & Scope.
Current Issue: Volume 4, Issue 2 (2017)
Table of Contents
Review Articles
Research Articles
Case Presentations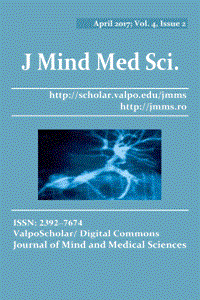 Editors-in-Chief
Co-Editor

David L. Rowland, Valparaiso University

Co-Editor

Ion G. Motofei, Carol Davila University
Publishing Advisor
Jonathan Bull, Valparaiso University
J Mind Med Sci.
is currently indexed in:
.
---
Web of Science Core Collection
H-index: 4
Average citations per item: 0.7